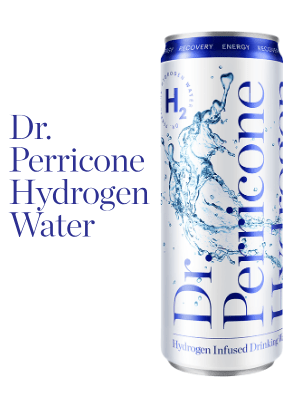 Smooth, refreshing, great tasting H2 water is now as easy as popping a top! Featured in ELLE Magazine!
Ingested H2 milligram rating:
Note: Shipping is not included.
For the past 30 years, Dr. Nicholas Perricone has conducted extensive research in supporting the body's healthy functioning to reduce the appearance of the signs of aging. Nothing has excited him more than the discovery of the efficacy of hydrogen water in supporting healthy aging. When ingested on a daily basis, this tiny molecule is transformational, and Dr. Perricone believes that it marks a revolutionary milestone in total health and well-being.
 Price: 
4 Pack: 8.3 oz cans: $12.00
30 Pack: 8.3 oz cans: $90
Go to the Dr. Perricone hydrogen water website to buy your H2 water today!