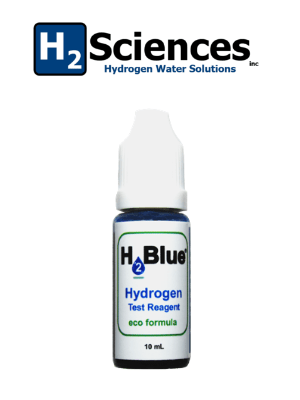 Number 1 tool for measuring the dissolved hydrogen concentration in your hydrogen water!
Note: Shipping is not included.
H2 Sciences Inc., a US corporation located in Henderson, NV, manufactures and distributes the H2Blue hydrogen test reagent, a simple and reliable method for measuring the dissolved hydrogen concentration in hydrogen-infused water. H2 Sciences Inc. also offers engineering, sales, and marketing consulting services to hydrogen water companies. These services include: performance evaluation/certification of hydrogen water devices; training for distributors and service representatives; writing/verifying the technical content contained on websites, marketing brochures and product technical manuals.
H2Blue
Price:
10 ml bottle: $24.95
30 ml bottle: $64.95
H2Blue Demo Kit: 31.95
Contact H2Sciences Inc. for inquiries concerning whole sale pricing or to become a distributor of H2Blue.
Go to the H2Sciences Inc. website to buy your H2Blue reagent today!