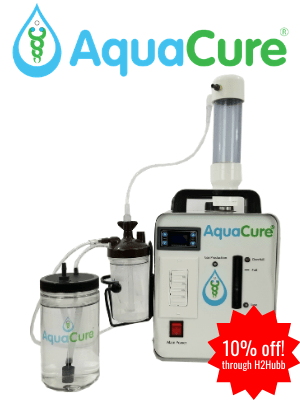 Take advantage of another method of administration for H2. Breathing hydrogen opens the door for new and different therapeutic benefits!
Overall H2HUBB Star Rating:
Note: Shipping is not included. 
 Company Mission:
"The AquaCure is a practical, reliable and versatile HydrOxy electrolyzer (generator) that is safety certified and designed (from experience dating back to 1986) to give you years of trouble free service. It has a Life Time Warranty and a 1 year Satisfaction Guarantee. The system can be operated continuously with minimal and easy maintenance. We've made it simple and easy to use. AquaCure has MANY features for safety and convenience, setting a gold standard for the best of HydrOxy for Health technologies."
Product:
AquaCure Model AC50: $2499.00
 H2 HUBB Discounted Price (-$249.90): $2249.10
Warranty: Life Time on generator; parts and labor if issue is manufacturer related.
Understanding the AquaCure Model AC50 inhalation device:
This generator creates the all-natural product of water electrolysis. 2 parts Hydrogen, and 1 part Oxygen. This means the generator will produce 66% H2 and 33% O2 by gas volume. 
Go to the Eagle-Research website to buy your hydrogen inhalation system today!