Hydrogen Inhalation System
Pure H2
Level 4 H2 Gas Performance
H2HUBB Tested H2 Output
540 mL/min
For more info view H2HUBB report
Buy the HM-500 Inhalation system at the special price of $3450 today!
Buy the HM-500 Inhalation system at the special price of $3450 today!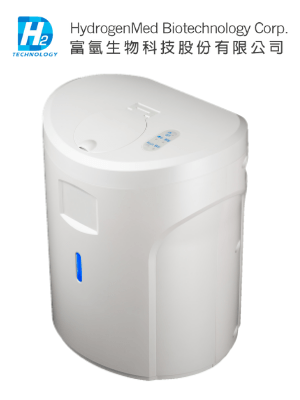 Pure H2 Inhalation Device
Take advantage of another method of administration for H2. Breathing molecular hydrogen opens the door for new and different therapeutic benefits!
Overall H2HUBB Star Rating:
H2Rich is offering a SPECIAL DEAL for the HM-500 inhalation system through H2HUBB. H2HUBB clients will be able to purchase the HM-500 for $4200.00 with free shipping ($1800 USD off retail).
Act now to get this amazing offer!
Note: Shipping is included 
LEARN MORE BY VISITING THEIR WEBSITE!
HydrogenMed Biotechnology Corp.
Company Mission:
HydrogenMed Biotechnology Corp. is a professional manufacture of hydrogen products. HydrogenMed provides a one stop shop for design, engineering, and production. HydrogenMed is a professional ODM. We are good at finding customers needs, and providing the right hydrogen products to our clients. We can quickly offer white-label products to customers for their product launch. We have many kinds of products, like hydrogen inhalation, hydrogen water dispenser, hydrogen nano-bubble dispensers and hydrogen alcohol purifier etc. HydrogenMed will consistently research and develop more innovative products for our customer.
Product:
HM-500: H2 Inhalation Unit
Price: $6,000.00
H2 HUBB Discounted Price (-$1800): $4,200.00
Warranty: 1 year repair or replace warranty.
Downloads:

H2 HUBB Preferred Manufacturer: HydrogenMed Biotechnology is a preferred H2 HUBB approved manufacture. If you're interested in becoming a seller (US, etc) of the HM-500 device, white labeling HydrogenMed products, or designing/developing your own H2 product contact us via the page contact form. We can put you in contact directly with HydrogenMed and help you start the process of them handling all your needs.
CONTACT US VIA THE CONTACT FORM BELOW TO OBTAIN THE H2Rich HM-500 SYSTEM.