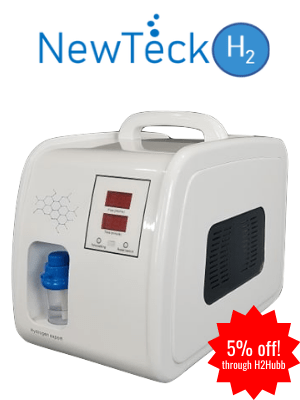 Pure H2 Inhalation Device
Take advantage of another method of administration for H2. Breathing molecular hydrogen opens the door for new and different therapeutic benefits!
Company Mission:
NewTeckH2.com™ is dedicated, first and foremost, to providing the latest in Molecular Hydrogen gas generators and Molecular Hydrogen water generators. Our team works tirelessly to provide individuals, innovators and researchers, with state of the art products, proven to produce levels of H2 as advertised. With over 25 years of experience in water treatment processes, our team at NewTeck H2™ is focused on providing the highest quality products to the North American market through marketing agreements with partner manufacturers. Our relationships with our exclusive manufacturers have been built up over the decades so we work with them side by side in developing the highest quality H2 products that perform as advertised. All products offered go through extensive testing and must produce high levels of H2. Many manufacturers claim high H2 values, but only those stringently tested with H2Blue reagent can offer valid results. Gauges are proven to be inaccurate as many conditions come into play when measuring H2 concentration. H2Blue Hydrogen test reagent is the best, inexpensive way to reliably test for H2 Concentration.
Product:
Halcyon Plus: H2 Inhalation Unit
Price: $2,997.00
H2 HUBB Discounted Price: $2,847.30
Warranty: Click Here
Go to the NewTeckH2 website to buy your Halcyon Inhalation system today!