Hydrogen Inhalation System
Pure H2
$
2800
Shipping: $100 USD to the US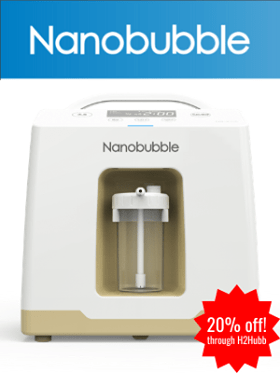 Level 3 H2 Gas Performance
H2HUBB Tested H2 Output
302 mL/min
For more info view H2HUBB report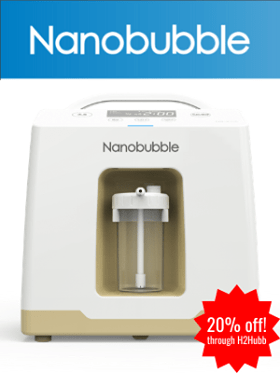 Pure H2 Inhalation Device
Take advantage of another method of administration for H2. Breathing molecular hydrogen opens the door for new and different therapeutic benefits!
Overall H2HUBB Star Rating:
Shipping to US customers is now available!
Note: Shipping is not included. (Typically is $100 USD to the US)
LEARN MORE BY VISITING THEIR WEBSITE!
Nanobubble
Company Mission:
Shanghai Nanobubble Technology Co., Ltd. is a high-tech company that independently develops nano bubble generation equipment. The technical feature is that super-saturated hydrogen water can be prepared instantaneously. The company's hydrogen solution preparation equipment is integrated with today's advanced industrial computer technology, and it has been working hard in the hydrogen-rich water health industry to gradually become a company with a strong influence in this field.
Shanghai Nanobubble Technology Co., Ltd. has technical department, engineering department and business department. It has strong design, R & D and production capabilities. It can customize and develop gas solution preparation equipment based on micro-nano bubble technology according to customer needs. The company currently has four series of independent intellectual property rights (super-saturated hydrogen solution water dispensers, professional-grade hydrogen inhalers, third-generation hydrogen-rich water cups, hydrogen-rich water baths, etc.), some of which have been put into production.
Our aim: professionalism is the foundation, service is the guarantee, and quality is the credibility. It is believed that with reliable product quality and good after-sales service, enterprises can win more imagination.
Product:
NB-X71A: H2 Inhalation Unit
Price: $3,500.00
H2 HUBB Discounted Price: $2,800.00
Warranty: 12 month warranty
CE Certified

NB-X71A Manual: Click Here
Click the "BUY NOW" button to purchase your Nanobubble Pure H2 Inhalation system today!
Nanobubble is a direct-to-the-market manufacturer, therefore, they do not have a user-friendly online purchase portal. If you are not comfortable purchasing via the online PayPal invoice linked in the "Visit Nanobubble Store" button then contact us directly via the contact form below and we will put you in direct contact with Nanobubble to facilitate your purchase.